Do you need more email subject line ideas? We have 125 healthcare email subject lines that will help your campaigns stand out. These are test and proven to get the best results. You'll never run out of ideas again!
Our list is full of creative, engaging, and informative emails that will boost your open rates and click-throughs. They're perfect for any industry or campaign type! It doesn't matter if you're a beginner or an expert – these emails are easy to use and implement into your existing strategy. Get start today with our list of 125 healthcare email subject lines!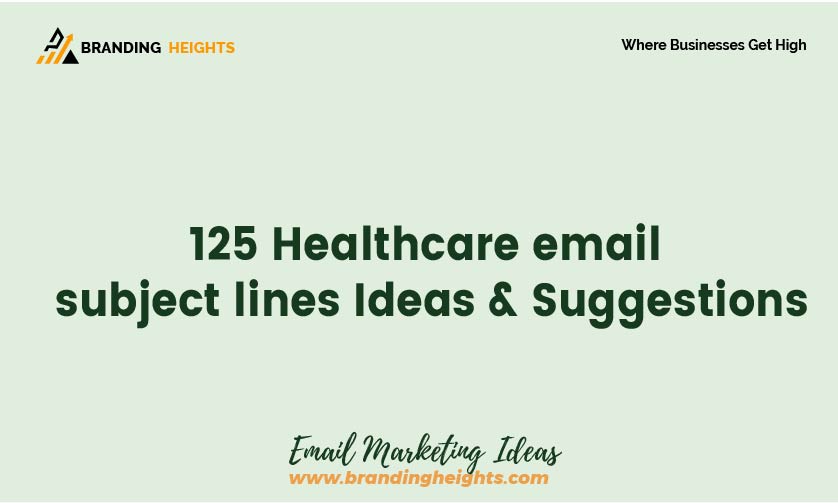 Healthcare email subject lines
"A new way to improve patient care"
"A tool that can help you save time and money"
"A revolutionary way to manage your practice"
"The future of healthcare"
"The latest and greatest in healthcare technology"
"The most important thing you need to know about patient care"
"Why you need to care about healthcare reform"
"How to improve patient satisfaction"
"The top 10 things you need to know about healthcare"
"5 ways to improve your practice"
You're Invited: Open House at our New Facility!
Mark Your Calendar: Free Health Screenings this Saturday
We're Moving! New Address and Phone Number
Dr. Smith will be out of the office next week…
Have you seen our new website?
Introducing our new online scheduling system…
Save the Date: Annual Flu Shot Clinic
Did you know? October is National Breast Cancer Awareness Month
Now accepting applications for our 2016 Summer Internship Program
In the news: Dr. Smith was recently quoted in the New York Times…
Upcoming Event: free Yoga Class for cancer survivors
You're invited: Open house at our new facility!
Introducing our newest doctor: Dr. Jane Smith
Now open: Urgent care center
Coming soon: Extended hours and walk-in appointments
Now offering: [new service]
Get back to feeling your best with [popular treatment]
[sale] on all [medical supplies]
Don't miss it! FREE health screening this Saturday
'Tis the season: Tips for staying healthy during winter
New year, new you: Join our weight-loss program today!
[reminder] about your upcoming appointment with Dr. Smith on [date]
We've moved! Find us at our new address starting Monday
[urgent] Please call us about your recent test results
[patient testimonial] "I was finally able to put my back pain
"5 signs it's time to outsource your medical transcription"
For More: 115 Ideas for email subject lines that Opened
Quick Tips to Write subject lines Ideas & Suggestions
1. Keep it short and sweet – The subject line of your email should be concise, and no more than 50 characters long. This way, recipients will be able to quickly see what the email is about. And decide if they want to open it.
2. Be specific – When possible, include the patient's name in the subject line. It shows you care about who you're writing to, and it's a great way to personalize your emails.
3. Use the same subject lines as your other email correspondence – If you've been sending out standard appointment reminders for a while, stick with that format when sending healthcare reminder emails. Whatever works best for your practice.
4. Don't go overboard – If you want to send out a series of reminder emails, be careful not to overcrowd the subject line with too many ideas and suggestions. You don't want recipients to feel overwhelmed. It's best to stick to one thought per email.
5. Ask if they need help – Lastly, it never hurts to ask if the patient needs assistance. If you don't know what's going on with them, or you didn't have a chance to follow up after sending an appointment reminder, this is a good place to start before moving forward.
For More:
Conclusion
We have 125 healthcare email subject lines ideas and suggestions to help you with your next campaign. So If any of these examples are not quite the right fit for what you're looking for, feel free to reach out! Our team is always happy to brainstorm new ways that we can work together to drive more engagement with your customers. Let us know below which one of these email subject line samples was most appealing or if none were a good fit. May be our team will come up with something better suited just for you! What do you think? Which emails would be best used in your business?