We know that intriguing email subject lines are the most important part of your marketing strategy. That's why we have compiled 129 of our favorite ideas and samples to help you craft the perfect subject line every time. Get inspired today!
You can use these subject lines in all kinds of emails, from newsletters to announcements and more intriguing email subject lines. They will work with any business or industry, so they're great for everyone! Whether you need something short and sweet or long and descriptive, there is an idea here for you. And if none of them strike your fancy, just keep scrolling – there are plenty more where those came from! So get ready to make this year your emails start getting opened again by using these amazing ideas right away.
For More: How to write a good email subject line That Opened 10x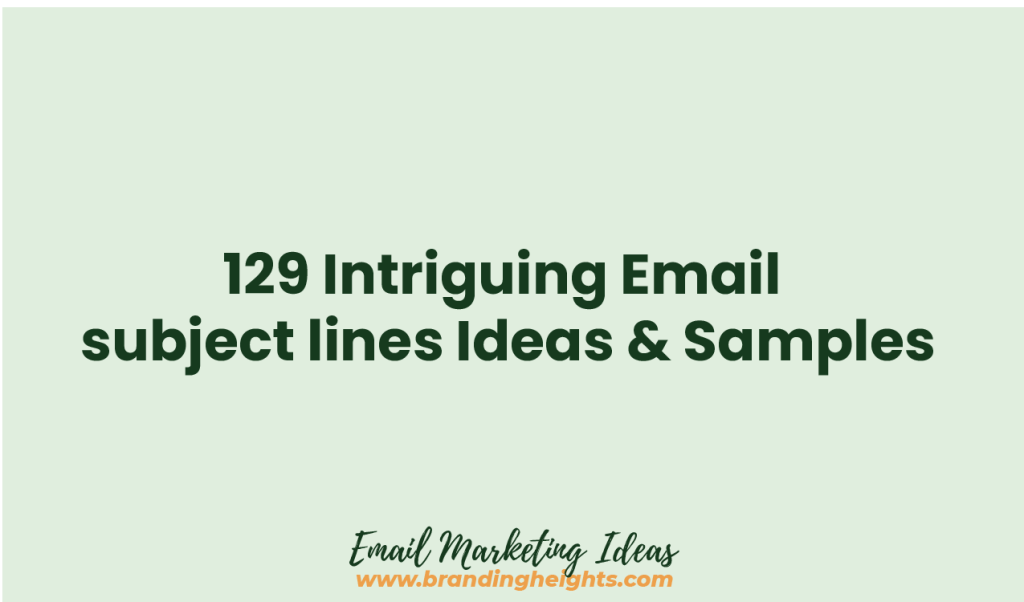 Intriguing Email subject lines
You Won't Believe What Happened Next
Breaking News: [Insert Latest News]
Are You Ready for [Insert Season or Holiday]?
Get the Scoop on [Insert Trending Topic]
This Just In: [Insert Timely Update]
Check out our Newest [Product or Service]
On Sale Now: [Time-Sensitive Offer]
Hurry! [Quantifiable Limited-Time Offer]
[Complimentary Product or Service]: Just for You!
[Rave Review]: "[Customer Testimonial]"
[Product Recall]: What You Need to Know
[ industry news ]: headlines you can't miss
[ new development ]: stay ahead of the curve
[ freebie alert ]: your exclusive offer
"You won't believe what happened next!"
"I'm so sorry, I haven't been myself lately"
"Introducing [Product/Service]"
"[ Bulgogi / tacos / dumplings ] night?"
"Can we talk about [ difficult topic ] ?"
"Thank you for always being there for me"
"Check out my latest blog post!"
"#throwback Thursday – can you guess where I am?"
"- best thing I've eaten all week!"
I have some good news and some bad news…
You won't believe what happened to me today…
I need your help with something…
Check out this hilarious video!
You've been chosen for a special offer!
Congratulations! You've just won…
Sorry, we're having trouble with your account…
Your order has shipped!
[Urgent] Please call me as soon as possible…
Can we meet tomorrow?
Thank you for your business!
Here's what I was thinking…
I'm not sure if you're the right person for this, but…
This might be a long shot, but…
"Need a laugh? Watch this video!"
"I'm in tears reading this heartbreaking story"
"How are you really doing today?"
"Make today count"
"It's Monday! Time to start fresh"
"You're not going to believe what I just found out!"
"You Won't Believe What happened Next!"
"I Just Had to Tell You…"
"Can I Ask for a Quick Favor?"
"Thank You so Much!"
"Check out Our New Product!"
"Time is Running Out!"
"$100 Gift Certificate Inside!"
"A Complimentary Gift for You"
"Join Our Loyalty Program Today"
For More: 147+ Professional Email Subject Lines Ideas & Examples
Quick Tips to write subject lines Ideas & Samples

When you're sending out an email, the subject line is your chance to grab your reader's attention and convince them to open it. Crafting an intriguing email subject line can be tricky, but with a little thought and creativity, it can be done.
Here are a few quick tips to get you started:
1. Use numbers
People love numbers. Numbers are specific, and they carry more weight than words alone. For example, "5 Ways to Get Your Kids to Clear the Table" is likely to get more opens than just "5 Ways." This works particularly well for email subject lines that relate to tips or lists.
2. Use benefit-driven language
People love to know what's in it for them. Benefit-driven language tells your reader what they'll gain by reading your email. For example, "5 Ways to Earn More Money This Year" is more likely to get opens than "5 Ways to Be a Better Person."
3. Use urgency
Creating a sense of urgency in your email subject line can be a great way to get more opens. For example, "Final Hours! Only 2 Seats Left!" or "Do This Now or You'll Miss Out!"
For More: 147+ Professional Email Subject Lines Ideas & Examples
Conclusion
Conclusion paragraph: We've provided you with 129 intriguing email subject lines to help get your creative juices flowing. Hopefully, this will give you a better understanding of the different ways you can approach your own email marketing strategy and craft subject lines that engage and excite your subscribers. Are there any particular strategies here that stand out to you? What are you going to try first? Let us know in the comments below!