Do you want to increase your newsletter open rates? We know it's not easy to keep subscribers engaged and coming back for more. That's why we created a list of 113 Nonprofit newsletter subject lines that will help you get the most out of your email campaigns. These subject lines are proven to work and they can be used in any industry!
If you need help with your newsletters, this is exactly what you need. You don't have time to create new content or come up with catchy headlines every week – so let us do it for you! Subscribe now and start getting these emails sent directly to your inbox each week! It's free, quick, and easy.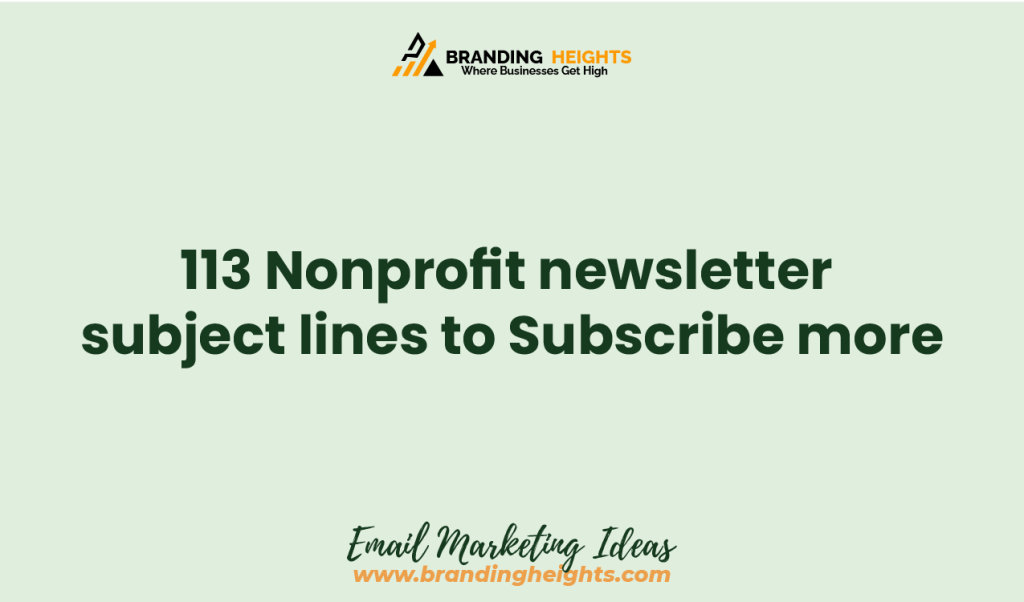 Nonprofit newsletter subject lines examples
"You make our work possible."
"Our impact would not be possible without you."
"Thank you for being a part of our community!"
"You are changing lives!"
"We couldn't do it without you."
"Thank you for your generosity."
"Your donations make a difference."
"You are making the world a better place!"
"We are so grateful for your support!"
"Welcome to our community!"
"Thank you for joining us!"
"We are glad to have you on board!"
"You are making a difference!"
"Your support means the world to us!"
"Our biggest achievements of the year"
"Introducing our new CEO"
"How we're fighting climate change"
"How we're helping the homeless"
"How we're supporting refugees"
"How we're protecting endangered species"
"How we're combating poverty"
"How we're promoting education"
"How we're supporting the arts"
"How we're caring for the environment"
"How we're helping victims of natural disasters"
"How we're working to end hunger"
"Our latest achievements"
" See what we've been up to"
"With your help, we can do more"
" Updates from the front lines"
" Progress report"
"What your donations are doing"
"Saving lives one step at a time"
"Fighting for justice"
"Helping those in need"
"Lending a helping hand"
"Nurturing minds and hearts"
"Opening doors of opportunity"
"Breaking down barriers"
"Building a better tomorrow"
"Giving hope to the hopeless""
"[Specific Campaign Name] Update: [Month]"
"Our biggest achievements of the year"
"Introducing our new Executive Director"
"A message from our Board Chair"
" Spotlight on: [insert program name]"
"Success stories from our clients"
"Q&A with our staff: [insert staff member name]"
"How you can help: [volunteer opportunity/donation request]"
"In the news: [recent media mention]"
"[Donor names] support [your organization's work]"
"[Number] ways you can make a difference"
"[Month/year]: What we've been up to"
"Get to know our staff: [Name]"
"Client Spotlight: [Name]"
"Volunteer Highlight:
For More:
Quick Tips to Write subject lines to Subscribe more
Do you use newsletters? A newsletter is a great way to build and foster relationships with donors. But, more than that, it provides you the opportunity to show prospective donors how their donation is making an impact. Unfortunately, not all nonprofits subscribe to the idea of having newsletters as part of fundraising efforts.
"I don't have time for newsletters," they say. "They don't work at all," they sigh.
Well, newsletters may not be the most popular marketing tools in nonprofit organizations, but they do work! And here's proof: nearly 80% of people who open a newsletter are likely to make a donation. Just how effective is it?
Newsletters can easily get donors to take action, donate and/or volunteer. But, only if you know how to write compelling subject lines. Here are some ways to go about it:
·Keep Subject Lines Short
According to the Direct Marketing Association (DMA), the recommended character count for subject lines is between 50-60 characters. If your nonprofit newsletter has more than that, it's likely that your readers aren't opening it.
·Personalize the Subject Line
Segment your email list and send different subject lines to different groups. For example, if you have a Donor Acknowledgment List and a Prospective Donor list, send different subject lines to each group.
This is a great way to personalize your newsletters.
·Keep it Simple, Stupid!
Avoid flowery language, clichés and rambling sentences in your subject lines. The more information you stuff into one line of text, the less likely it is that people are going to bother opening it. What's more? It'll look like spam.
For More:
Conclusion
These are 113 Nonprofit newsletter subject lines that will help you get more subscribers. I hope this list helps! Leave a comment below and let me know what your thoughts are on these nonprofit newsletters. What do you think of the tone? Which one was your favorite to read about? Is there anything else you would like us to include in our next blog post? We love hearing from readers, so don't hesitate to reach out if there's something specific you want addressed or any other questions. Thanks for reading! Happy blogging 🙂