You're reading this because you want to know how to create a slogan or tagline.
So, 10 things to do before Creating slogan. We've got 10 tips for you to help make sure your marketing message is the one that resonates with your consumers. You may be wondering how to get started, so we've compiled them all into one easy-to-read guide. We hope these tips will help guide your marketing efforts and guide you in making sure it's right for you!
You want people to notice your brand, right? That's why every great business has a strong brand identity. But before you get started with designing your own slogan or tagline, make sure these 10 steps are completed first! It may seem like an overwhelming task at first but once you're done with it, we know how much easier it will be to create something unique and memorable for all of us who love being creative and working with great ideas. So Lets have a Look at things to do before Creating slogan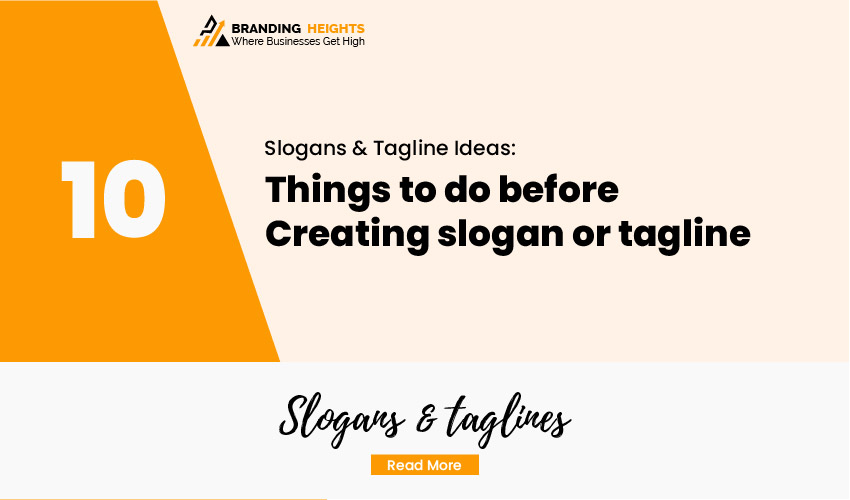 1. Know your business inside and out.
Before you can start thinking about slogans or taglines, you need to have a good understanding of what your business is all about. What are your goals? What are your values? Or, What makes you unique? Once you have a clear idea of your brand, you can start developing messaging that accurately represents it.
2. Come up with a list of key messages.
Once you have a good understanding of your business, it's time to come up with a list of key messages. What are the most important things you want people to know about your company? What makes you stand out from the competition? Once you have a list of key messages, you can start exploring related adjectives to describe the feelings that go along with them.
3. Consider your target audience.
It's not enough just to come up with a list of good words; it's also important to consider who you're talking to, and how they'll respond to terminology. Are you targeting teens? Executives? Teen executives? Once you know who your target audience is, you can choose words that are relatable to them.
4. Keep your brand in mind.
A slogan or tagline isn't just another ad; it's the first impression some people will have of your company. If you're not careful, your message can come across as insincere or disjointed. A good slogan or tagline is the perfect blend of words that captures your brand's message, audience, and voice.
5. Stay away from clichés.
There are many common phrases that you might be tempted to use in your messaging – but remember, clichés are overused for a reason. They don't make an impression, and they can actually hurt your brand's image. If you want to come up with something truly original, you'll need to put in some extra effort.
6. Don't be afraid to be funny…
A lighthearted slogan or tagline can be a good choice for some companies. For example, the tagline "Got milk?" is so memorable because it not only describes what the company does but also pokes fun at itself.
7. But don't be afraid to stay serious either.
If you want to come up with something that captures people's attention without being too funny or cute, a serious slogan or tagline can be a good choice. For example, the Nike slogan "Just do it" is short, simple, and to-the-point – and it's helped the company become one of the most well-known brands in the world.
8. Use words that are unique to your company.
One of the best ways to make your slogan or tagline stand out is to use unique words that are associated with your company. For example, if your business is called "Smith & Sons," you might want to consider using terms like "craftsmanship" or "quality" in your messaging.
9. Keep it short and sweet.
In general, it's a good idea to keep your slogan or tagline short and sweet. You want it to be memorable, and you don't want people to get bored before they've had a chance to read it. A good rule of thumb is to aim for around 10-15 words or less.
10. Play with font, Colour, and size.
Once you've come up with the perfect slogan or tagline for your company, don't be afraid to get creative! You might want to play around with the font, the Colour scheme of your messaging, or even its position on your website. A little creativity can go a long way towards making your message memorable. So After Reading 10 things to do before Creating slogan you can start creating yours
Conclusion:
The 10 things to do before Creating slogan. we've outlined are designed to help you create a catchy, memorable slogan or tagline that will resonate with your target audience. Whether you have an existing business or are about to launch one, these tips can be applied to any marketing strategy in order to generate more conversions and sales. What strategies do you employ when it comes time for writing slogans? Share them below!