Do you need help with your email marketing? We know that email is a powerful tool for schools, but it can be difficult to come up with ideas. That's why we created this list of 101 catchy email subject lines for schools! Now you have plenty of options when it comes to creating engaging and exciting emails that will get your audience excited about what you have to say.
With these great examples in hand, you'll never struggle again when trying to think of the perfect way to start off an email. They are all proven winners because they work so well! So don't wait any longer – download our list today and see how much better your engagement rates become overnight!
For More: How to write a good email subject line That Opened 10x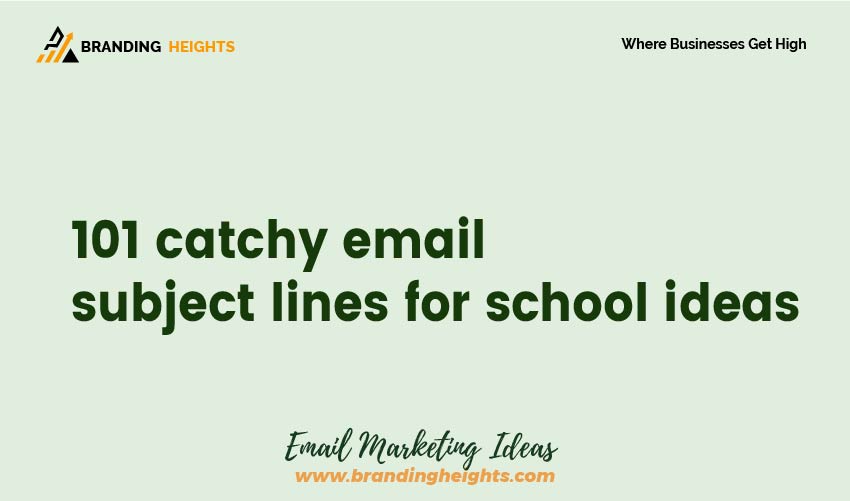 subject lines for schools
How to get your child into the best schools
A fresh start for the new school year!
It's time to gear up for the new school year!
Your school can become a STEAM powerhouse
Your child could be a star!
The ABC's of learning success
A new school year means a fresh start
📣Register now for our open house!
The best ways to improve your child's
Your kid is a genius!
It's time to plan your summer!
Join us for a free webinar!
Exclusive access to our online learning platform
Your child's future is looking bright
Your child is top of the class!
Summer Learning Opportunities
A fresh new school year awaits!
A fresh start for the new school year
It's Time to Register for the School Year!
From the desk of the Headmaster
The best way to learn? The experience.
Your child could be a gifted learner!
It's not too late to get your children enrolled!
Your child could be a math genius
A message from your child's teacher
Your child's future is at stake!
Your kid is one step closer to college!
How to keep your students engaged
Your child's success starts here!
The ABC's of getting your child into the best school
Your child's success is our top priority
A Message from the Superintendent
Your child could be failing math, here's how to help
Your school's future is in good hands
A fresh approach to learning
It's Time to Make the Grade
[name of school] is getting a new principal!
Math Tutoring That Gets Results
A Fresh New Year, A Fresh New You
It's not too late to enroll in summer school!
Your child is a gifted artist!
A day in the life of a student
A New School Year Brings Exciting Changes
Quick Tips to write subject lines for schools ideas
Subject lines are the first thing that recipients see in their email inbox. It should be catchy, interesting, and relevant to what the email is about so that they would want to open it right away. If you're having a hard time getting started with your subject line, here are some quick tips to help you out:
1. Keep it Short: The shorter the subject line, the more likely it is to be read. Try to keep it to around 50 characters or less.
2. Use a Headline Formula: You can use a headline formula such as "How to _____" or "5 Tips for _____" to help you get started.
3. Use Relevant Keywords: Some examples of keywords are 'schools,' 'education,' 'students' or even your school's name. You can also mix it up by using some popular hashtags in your message too, to help get the word out about a new event or campaign you're hosting.
4. Personalize it: Try to include the name of the recipient or your school's name in your subject line too. You can also use the person's position in the email if you're sending an email out to a group of people, but make sure to not do this too much because it can get annoying for some people.
5. Use Humor: A little bit of humor can go a long way in getting someone to open your email. Just make sure that the humor is appropriate and will be understood by your recipients.
6. Use Urgency: If you're sending out an important email, you can try to include words that give off a sense of urgency in your subject line. Some examples are "Hurry," "Last day" or "Now."
For More: 147+ Professional Email Subject Lines Ideas & Examples
Conclusion
Do you want to engage your school community and get more people opening and responding to your emails? Check out these 101 catchy email subject lines for schools! From contest announcements to event reminders, these subject lines will grab attention and get people clicking. Try out a few different ones to see what works best for your school's needs. Happy emailing!