Do you struggle with coming up with gift card email subject lines? We have 115 gift card email subject line ideas & samples for you to use. You can even customize them to fit your brand! These are tested and proven to work, so get started today.
Use these gift card email subject lines in your campaigns and watch the sales come rolling in! Don't waste another second of your time trying to figure out what works best for you – just copy our examples instead. Stop wasting money on testing different types of emails that don't work, and start using these ones instead! They will help increase engagement rates, click-throughs, conversions, average order values… everything! It doesn't matter if it's a holiday or not – people love getting free stuff from brands they already know and love. Get started now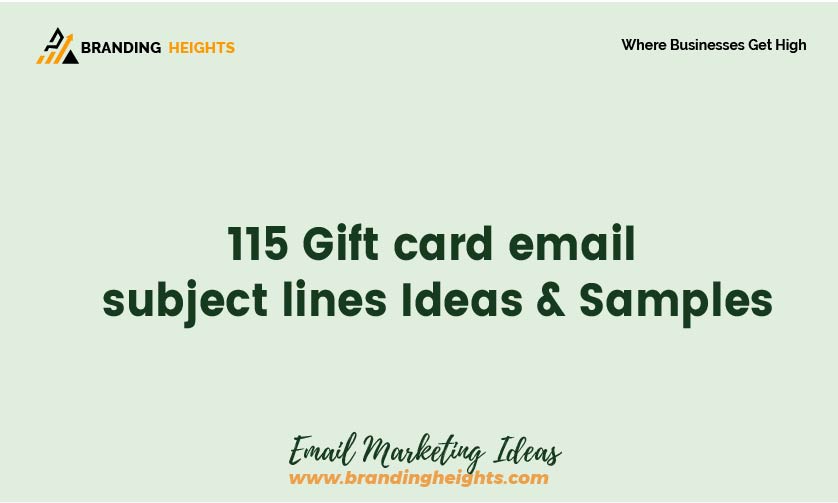 Gift card email subject lines
"You've been chosen to receive a special gift!"
"A little something to show our appreciation."
" Thanksgiving Treat: $15 Gift Card Inside!"
" Secret Santa says you're getting a $15 gift card!"
"$15 Gift Card Inside – Hurry, Opening Ends Soon!"
"We hope you enjoy your holiday season!"
"Gift card enclosed – open immediately!"
"Your favorite store is giving you a present!"
"$15 off your purchase – happy holidays!"
"$15 to spend however you like!"
"What to do with your brand new gift card"
"Gift card ideas for everyone on your list"
"How to make the most of your gift card"
"5 creative ways to use your gift card"
"10 ways to get more bang for your buck with your gift card"
"Get the most out of your gift card with these tips"
"Not sure what to do with your gift card? Try these ideas!"
"3 Ways to Use Your Gift Card This Holiday Season"
"5 Tips for Getting the Most Out Of Your Gift Card"
"How To Use Your Gift Card More Effectively This Year"11.
Sizzling Suggestions For Redeeming Your Gift Card
" Time to treat yourself! Spend $15 at your favorite store."
"A holiday gift from us to you!"
"We wanted to say thank you with this $15 gift card."
"A little something to show you how much we appreciate you"
"A thoughtful gesture for a special someone"
"Thinking of you with a little gift"
"A special thank you, from us to you"
"Wishing you a Happy holiday season!"
"From our family to yours, Merry Christmas!"
"Wishing you all the best in the New Year!"
"We hope this puts a smile on your face"
"Just because we love you"
"Spreading the cheer this holiday season!"
You're in for a treat!
A little something to brighten your day…
I couldn't resist getting you this gift!
Happy [Insert Occasion]!
Here's a little something to show you how much I care
Thanks for always being there!
Sorry it took me so long to get you a present…
I hope this makes your day!
I know you'll love this!
You deserve the best of the best!
A gift for my favorite person in the world!
Just because…
From me to you with lots of love!
14To show you how grateful I am…
For More: 107 attention grabbing email subject lines that get Opened
Quick Tips To Write subject lines Ideas & Samples
When you're crafting your email marketing campaign, the subject line is one of the most important pieces of the puzzle. It's what entices people to open your email, and if it's not catchy or relevant, they may never even see what you have to say.
With that in mind, we've put together a few tips for writing effective gift card email subject lines.
1. Be specific
When people are shopping for gifts, they often have a particular item in mind. If you can capture their attention with a specific subject line, they're more likely to open your email and see what you have to offer. For example, "50% off gift cards for the holidays" works better than "50% off gift cards."
2. Add value
What exactly do you have to offer? If it's a great deal, say so. But if you want people to actually read your email, show them why they should bother. One way of doing this is using social proof – testimonials from happy customers are always a good way to go.
3. Keep it short
Your subject line should be catchy, relevant, and to the point. That's a lot to ask of a few words, but it's doable if you focus on the most important information. For gift card emails, that might mean highlighting the benefits of your cards over physical ones, especially when they're on sale.
4. Track how well it's doing
Once you've got a few subject lines that work for an email campaign, track which ones perform the best and use that information to guide future campaigns. You can add tracking information to different sections of your code depending on where you want the statistics to be generated.
For More: How to write a good email subject line That Opened 10x
Conclusion
In this article, we've provided you with 115+ gift card email subject lines and ideas for your next marketing campaign. We hope these help make the process of brainstorming new content a little easier! If there are any that inspire you or get your creative juices flowing, feel free to use them in your own emails. But please note: not all of these will be appropriate for every situation. You should always do what is best for your specific business goals and audience needs when crafting an email message–we encourage you to try different approaches until one clicks with recipients (and leads) like never before! What did you think? Have any favorites from our list? Let me know by commenting below so I can add some more great