As a marketer, you know that one of the best ways to promote your product is through email marketing. But what's the best way to get your email recipients to open your message? By crafting a catchy subject line that encourages them to click through and learn more. In this blog post, we'll share 109 examples of promotional email subject lines that are sure to grab attention and help you sell more products. So whether you're just starting out with email marketing or you're looking for fresh ideas, we've got you covered!
promotional email subject lines that will help get your product the attention it deserves. From using humor to playing off current events, these subject lines will intrigue your audience and get them excited about what you have to offer. So head on over to your favorite marketing tool and start drafting those emails!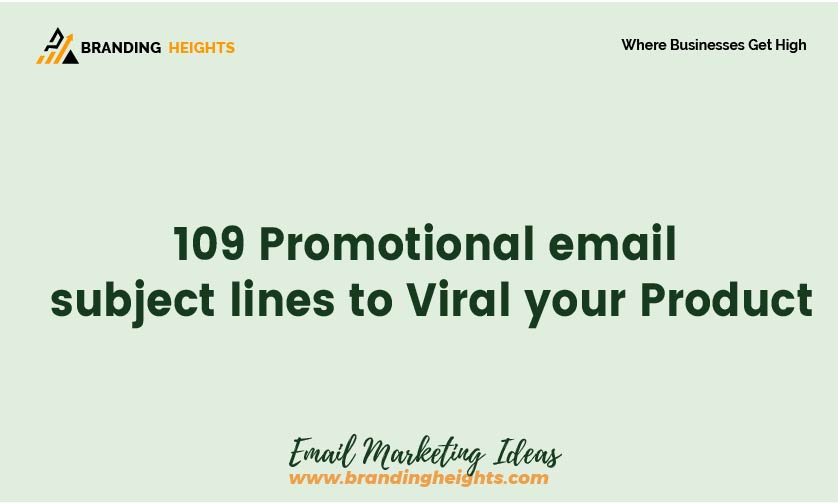 Promotional email subject lines
Your email subject line is your first (and sometimes only) chance to make a good impression on your recipients. With a little creativity, you can craft a subject line that will grab their attention and encourage them to open your email. Here are promotional email subject line ideas to get you started:
New Product Alert: [Product Name] is Now Available!
Limited Time Offer: [Discount] on [Product Name]
Flash Sale: [Discount] on [Product Name]
Introducing: [New Product Name]
We've Restocked: [Product Name] is Back in Stock!
Customer Appreciation Sale: [Discount] on All Orders!
Happy Birthday! [Discount] off Your Order Today Only!
It's Our Birthday! Celebrate with [Discount] off Your Order!
New Arrivals: [New Products] Just Added to Our Collection!
End of Season Sale: Up to [Discount] off Select Items!
Get Ready for Fall with These New arrivals!
Winterize Your Wardrobe with These Seasonal Essentials
Introducing our new product/service!
"Big Savings on XYZ!"
"New arrivals just in!"
"Super sale this weekend only!"
"XYZ is now available!"
"Over 50% off XYZ!"
"Free shipping on all orders!"
"New lower prices on XYZ!"
"Hurry, sale ends soon!"
"Don't miss out, limited quantities available!"
"Get XYZ before it's gone!"
"While supplies last!"
"Sale ends at midnight tonight!"
"One day only! Don't miss it!"
"End of season clearance sale!"
"'Buy one, get one free' deal on XYZ!"
You're invited!
Save the date!
Don't miss out!
Flash sale!
New arrivals!
Exclusive offer for (name of customer)!
Limited time offer!
Get (specific benefit) with our (product/service)!
act now and get (number)% off your purchase!
We're giving away (type of prize)! Enter to win today!
Make your life easier with our (product/service)!
.(Product/service) is back and better than ever!
(Number) reasons why you'll love our (product/service)!
.(Product/service) just got a makeover! Check
For More: 105 Coming soon email subject lines ideas & Sample
Best subject lines for Promotional emails
Time-Sensitive Offer: [Urgent] Only a Few Hours Left!
New Arrivals: Shop the latest arrivals now!
Back in Stock: [Product] is back and available for purchase!
Introducing: [New Product] is now available!
On Sale Now: Save [X%] on your purchase today!
clearance sale: Hurry, stock is limited!
Restock your wardrobe with the latest arrivals from [Brand]!
VIP Access: Exclusive access to sales and discounts only for VIP members!
Get a jump start on your holiday shopping with our early bird specials!
Can't Miss Deal: [Product] is available at a special price today only!
Don't Miss Out: Limited quantities available!
Spring into action with our seasonal sale – save today!
One Day Only: Save big on your purchase today!
Summer Fun: Stock up on seasonal essentials before they're gone!
ash your space with our home décor sale – save today!
Get excited for [event] with a special offer!
Last chance to get tickets to [event]
Don't miss out on [product]
New arrivals just in time for [season/holiday]
You + [product] = the perfect match
We have what you need to make [task] a breeze
Introducing [new product]
[Product] is back and better than ever
[ pop culture reference]
[Product] is the only thing you need this [season/holiday]
You're invited to [event]
[Sale/discount] ends soon!
Which [product] are you?
Can't wait for [event?] We've got you covered.
[Product/service] has never been easier (or more fun!)
For More: 109 b2b cold email subject lines To Double your Sales
Promo code email subject line
A great promotional email subject line can be the difference between a recipient hitting delete and opening your email. If you're looking for some inspiration for your next promotional campaign, here are fifteen of the best promo code subject lines we've seen:
Get [X% Off] Your Next Purchase!
Don't Miss Out! [X% Off] Your Order ends Soon!
New Customers get [X% Off] their First Order!
Only [X Number] of These Left! Get Yours Now!
Hurry! Promo Code expires at Midnight!
You Won't Believe These Amazing Deals! Promo Code Inside…
Time's Running Out! Get [X% Off] Your Order Now!
Exclusive Offer For Our Email Subscribers: [X% Off] Your Next Purchase!
Flash Sale! Get [X% Discount] on Your Order Now!
Just For You: [X% Off] Your Next Order with Promo Code
[# of days until sale ends] Days Left! Shop Now & Save!
[Product Name] on Sale Now + Free Shipping with
"New arrivals – don't miss out!"
"Flash sale – 20% off everything!"
" limited time offer – ends tonight!"
"Hurry – only a few left!"
"Don't miss this – once in a lifetime offer!"
"Final call – this is your last chance!"
"We're making room for new inventory – get it while it lasts!"
"It's been too long – we miss you!"
"Time's running out – act now!"
"'s choice – our bestseller of the month!"
"BOGO – buy one, get one free!"
"First dibs! Exclusive access for loyal customers."
"You deserve this – treat yourself today!"
"Save big this weekend only!"
For More: 131+ Best Email Subject Lines For Sales to Get More Clicks
Quick Tips To Write subject lines to Viral your Product
Writing a subject line for your promotional email may be one of the most challenging task that you face as an email marketer. The subject lines are those small but very important phrases which determine if a receiver will read your message or simply delete it from his/her inbox.
If you fail to write an effective title, a lot of time would have been wasted for nothing. Not only that, your email might not get the attention it warrants and end up at the bottom of the recipient's inbox. Here are some tips:
1.Keep it Short and Sweet
The attention span of people is getting shorter and shorter day by day. So, it's best to keep your subject line short and sweet. Around 50 characters would be ideal. Any more than that and you run the risk of the recipient not reading it at all.
2.Include the Offer in the Subject Line
If you want someone to click on your email, include the offer in the subject line. If it's irresistible to them, they would definitely click on it to find out more about it. Also, this increases the chances of people staying tuned throughout the entirety of your mail.
3.Don't Include More Than One Offer
If you have more than one offer, it's best to include them in different emails. Including more than one offer in the same email would only confuse the recipient and he or she might not be interested in any of them.
For More: How to write a good email subject line That Opened 10x
Conclusion
If you want to increase your product sales, one of the best ways is through promotional email subject lines. When it comes time for you to send an email promoting a new product or service, don't just use "Hello" as your subject line and expect people will still open the message! Be creative with these 109 Promotional Email Subject Lines that we have compiled in order to help drive more traffic back to your site and website conversion rates. What are some of the most effective subjects you've seen? Let me know & comment below so I can add them here!