Do you want to send more emails? You're not alone. We all get stuck in a rut sometimes, and it can be hard to think of new call-to-action email subject lines that actually work. That's why we created this list of 101 email subject line ideas for you! Now you have no excuse for sending out boring emails with lackluster subject lines.
It doesn't matter whether your company is big or small, B2B or B2C—you need an effective way to connect with customers and prospects on their level so they pay attention when you reach out. The right words are the secret sauce that makes people open your messages instead of deleting them without thinking twice. So if you want to find the perfect words every time, look no further than our list below! With these creative ideas at your disposal, there's nothing stopping you from getting noticed by everyone who opens their inboxes each day. All it takes is one click here and now…we promise we won't tell anyone how easy it was 😉
For More: How to write a good email subject line That Opened 10x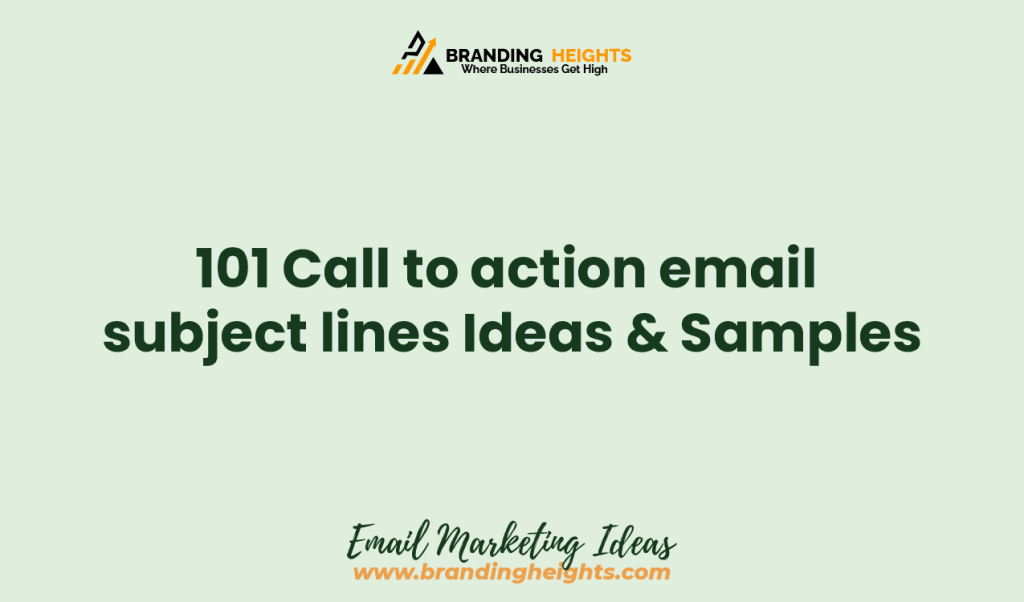 It's time to take your business to the next level!
Just announced: Our biggest discounts of the year!
You're not going to want to miss this!
You're only one step away from your dream logo!
Get a free logo today!
Get a free logo design!
Your order is on its way!
Last chance to save!
Get inspired by the world's top brands50% off your first order
10% off your purchase today
New arrivals – shop now!
Summer sale – up to 50% off!
Try a new approach to your subject lines
Use humor
Be personal
Tease the content of the email
Reference current events or holidays
Create urgency
Tips To write email subject lines Ideas & Samples
Email marketing is an important part of online business. A well designed email can be the difference to its success or failure. There are several factors that contribute to a successful email, such as good content and providing users with ease in use. However, there is one factor that stands out from all others which can account for up to 70% of your success rate, and that is your email subject line.
Your email's subject line will determine how many people open it, so make sure to spend time on crafting a good one. The following are some tips on how to write effective email subject lines:
1. Keep it short – Most people won't read anything that's over 50 characters, so keep your subject line short and to the point.
2. Personalize it – Add the recipient's name to the subject line to make it more personal.
3. Use a catchy headline – If you can come up with a clever or funny headline, it will entice people to open your email.
4. Tease the content – If you have a juicy piece of news or an upcoming sale, tease the reader by hinting at what's inside the email.
5. Use urgency – If you need people to take action, use words like "urgent" or "important" in your subject line.
6. State the obvious – Sometimes a simple subject line is best. For example, "You've got mail!"
7. Test, test, test! – The only way to know what works best for your audience is to test different subject lines and see which ones get the most opens.
For More: 147+ Professional Email Subject Lines Ideas & Examples
Conclusion
There are a lot of things that go into the perfect email subject line. You need to think about your audience and what they want, while also considering how you can grab their attention with something different than the usual "Hey!" or "Check this out!" But don't worry; we took all of these factors into consideration when coming up with some examples for your next call to action email subject lines. We hope these ideas will inspire you in your marketing efforts and get results from potential customers who just might say yes to whatever it is you're offering them. What do you think? Let us know by commenting below!