Looking for a great email marketing subject line? Look no further! We have 127 of the best email marketing subject lines that will help you increase your open rates and generate more sales. Email is still one of the most effective ways to reach your customers, so don't let it go to waste. Our list has everything from funny to serious, so there's something here for everyone.
You can use these subject lines in any type of campaign you want – whether it be an announcement or promotion. They are all tested and proven to work, so they won't disappoint. Get ready for increased engagement with our list today!
For More: How to write a good email subject line That Opened 10x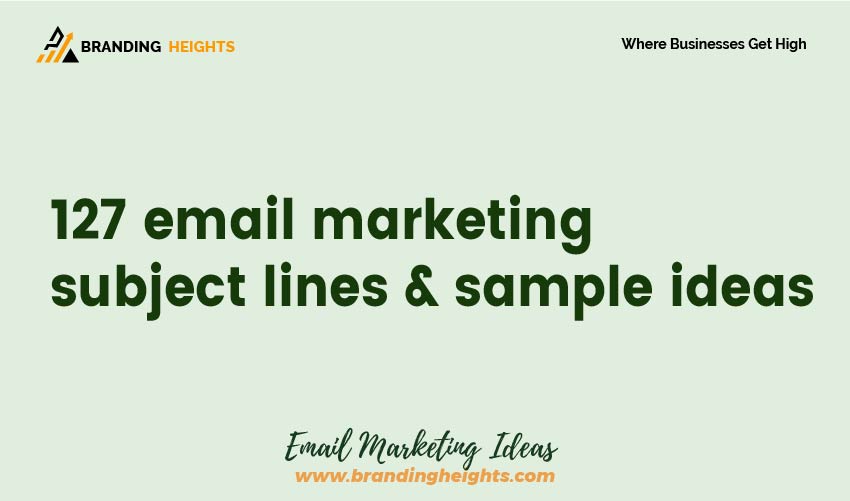 Good email marketing subject lines
Time for an update!
Your monthly dose of [insert content type]
The latest from [your brand]
"You Won't Believe What Just Went On Sale!"
"New Arrivals Just In Time For Your Summer Vacation!"
"We're Having a Massive Sale This Weekend Only!"
"You Asked, We Listened: Our Biggest Restock Yet!"
"Introducing Our Newest Collection…"
"This is Not a Drill: Your Favorite Items are Back in Stock!"
"Back by Popular Demand: [Product Name]"
"Our Best-Selling [Product] is Finally Back in Stock!"
"Alert! Your Satisfaction Is Fully Guaranteed With This Purchase!"
"[Product] Will Change Your Life! You Need to Try it Now!"
"Warning: Do Not Miss Out On This Offer!"
"Time is Running Out! Get [Product] Before it's Too Late."
"Hurry! Quantities Are Limited, So Act Now!"
"Today Only: Don't Miss Out On These Incredible Savings!"
"% Off [Product] – Limited Time Offer!"
Get ahead of the trends with [your brand]
New arrivals from [your brand]
You're invited: [event name]
Get the inside scoop on [industry news]
Can't-miss offers from[your brand]
Hottest trends from[your brand]
[Your industry]: what'snew this month
"You won't believe what our new product can do!"
"A sale so good, you'll be green with envy!"
"Don't miss out on these summer deals!"
"Back to school savings!"
"Introducing our newest product…"
"Time to stock up!"
"Biggest sale of the year!"
"While supplies last!"
"New products just arrived!"
"Hurry, before they're all gone!"
[YourBrand]: How to[solve a common problem]
Introducing[a new product/service from your brand]
[A piece of content you recently published]
[YourBrand]: Howto[ improve a common skill related to your industry]
[A relevant current event that affects your industry or customers]
[Customer first name], thank you for being a loyal customer!
[An interesting statistic or figure related to your industry or customers]
The power of[social proof – I e a testimonial or referral from a satisfied
For More: 107 attention grabbing email subject lines that get Opened
Best subject lines for b2b email marketing
Email subject lines are important. If you have a great email list but your subject line sucks, you're going to have a hard time getting people to open your emails. So what makes a great email subject line? Here of the best subject lines for b2b email marketing, based on my experience and research:
The One Thing Your Business Needs to Succeed
How to Double Your Sales in the Next 30 Days
10 Reasons Why Your Competition is Beating You
New Study Shows That Email Marketing Works
The Secret to Writing Great Email Subject Lines
How to Get More Subscribers in Less Time
Are You Making These 7 Email Marketing Mistakes?
The 5 Best Ways to Boost Your Email Open Rates
How to Make Your Emails Look Better and Stand Out in Inboxes
From the Desk of XYZ: How to Make More Money With Email Marketing
From 0 to 1 Million: The Story of Our Successful Email Campaigns
How We Grew Our Email List by 10X in 6
Thank you for being a subscriber!
You're invited: a special offer just for you
A gift for you: our latest eBook
Get ahead of the competition with our exclusive tips
Grab this limited-time offer before it expires!
Get instant access to our brand new white paper
You won't believe what we've just released…
New feature alert: see what's just been added
Are you making the most of your subscription?
Last chance! This offer ends soon
Your free trial starts now
Welcome to our community!
Get exclusive insights with our monthly newsletter
A personal message from the team
Stay in the loop: important updates you need to know
Get the inside scoop: an exclusive look at our latest project
Learn something new: top tips from our experts
timeless advice from one of our industry's best
'choice: the most popular content from last month
'stop pick: our editor's favorite article
For More: 109 b2b cold email subject lines To Double your Sales
Retargeting email subject lines
Missed you! It's been a while since we've seen you.
We've missed you! Come back and see us soon.
Where have you been? We've missed you!
We hope you're doing well!
It's been a while…
long time no see!
We're glad you're back!
"We Miss You!"
"It's been a while since we've seen you!"
"Come back and shop with us!"
"We have some new arrivals that you'll love!"
"You left something in your cart…"
"We noticed you were interested in…"
"Have you seen our new collection?"
"There's still time to get what you want!"
"Don't miss out on these great deals!"
"It's time to stock up on…"
"You're running low on…"
"Restock your wardrobe with…"
"New season, new styles!"
"'Insert popular item' is selling fast!"
"'Insert popular item' is almost sold out!"
"'Insert exclusive coupon code'"
"Exclusive offer for our VIP customers!"
"We're thinking about you…"
"Just for you: a special offer!"
Welcome back!
Good to have you back!
Nice to see you again!
Didn't expect to hear from you so soon!
I'm glad you contacted me again!
I'm glad we reconnected!
I'm happy to hear from you again!
Great to hear from you again!
Good to hear from you again!
I was just thinking about you…
I'm glad I ran into you…
we should catch up soon
"It's been a while since we've seen you…"
"We miss your smiling face!"
"Where have you been?"
"We noticed you haven't been by lately…"
"Thinking of you"
"We hope you're doing well!"
"Hope to see you soon!"
"Did you forget about us?"
"We haven't seen you in a while…"
"Drop by and see us soon!"
" come see us soon!"
We'd love to see you soon!"
"Stop in and see us!"
"Swing by and say hi!"
"Give us a call, we miss you!"
"Can't wait to see you again!"
"It's been too long!"
"Looking forward to seeing you soon!"
"There's No Place Like [Your Store]"
"We Have Good News For You!"
"[Sale] Just For You!"
"You're Invited To Our Exclusive [Event]"
"[Product] Just Arrived!"
"New From [Brand]: [Product]"
"[Flash Sale] Ends Tonight!"
"[Number] Reasons We Miss You"
"We Have A Present For You!"
"A Special Offer Just For You"
"You're On Our Mind"
"We Wanted To Thank You"
For More: Retargeting email subject lines to Engage More Audience
Quick Tips To Write ubject Lines & Samples Ideas
Email marketing is one of the most preferred and successful online promotional tools used by marketers and entrepreneurs. It helps you to connect, engage and promote your product or services in a personalized way.
Whether you are sending email newsletters for promoting affiliate products, selling your own products or making announcements, email subject lines play an important role as they determine whether your email gets opened or not.
Email subject lines should be catchy and interesting to grab the attention of your target audience. They should clearly tell about the content inside email and add value to it. We all know that 'Content is King' and if you present right content in front of your customers, they will opt-in for your emails and newsletters.
Here are a few quick tips to write email marketing subject lines:
1. Keep it short and catchy: Most people don't have enough time to read long subject lines, so keep it short and catchy.
2. Personalize it: Add the name of your recipient in the subject line to make it more personalized.
3. Use numbers: People love numbers and statistics, so use them in your subject lines to attract attention.
4. Be clear about the content: Make sure that the subject line of your email is clear about the content inside it.
5. Add value: Always add value to your email content by providing useful information to your subscribers.
For More: 147+ Professional Email Subject Lines Ideas & Examples
Conclusion
Email marketing is a great way to stay in touch with your customers and drive more sales. The subject lines you use can make all the difference when it comes to getting clicks, opens, and conversions. Here are 127 of our favorite email marketing subject line ideas for boosting engagement with your audience. What do you think? Do any of these sound like they would work well on your own campaigns? Let us know by commenting below!