Do you need safety slogans or taglines for your company? We've got the best slogans and taglines to help you get started. Our list of 109 slogans will inspire you to create something that works for your business. You can use our slogans as is, or customize them with your own words. Either way, we think they'll give you some great ideas!
Get inspired by looking through our list of slogans below – then start brainstorming on how to make it work for your brand! If there are any other topics that interest you, let us know in the comments section at the bottom of this page. We love hearing from people who care about their brands as much as we do!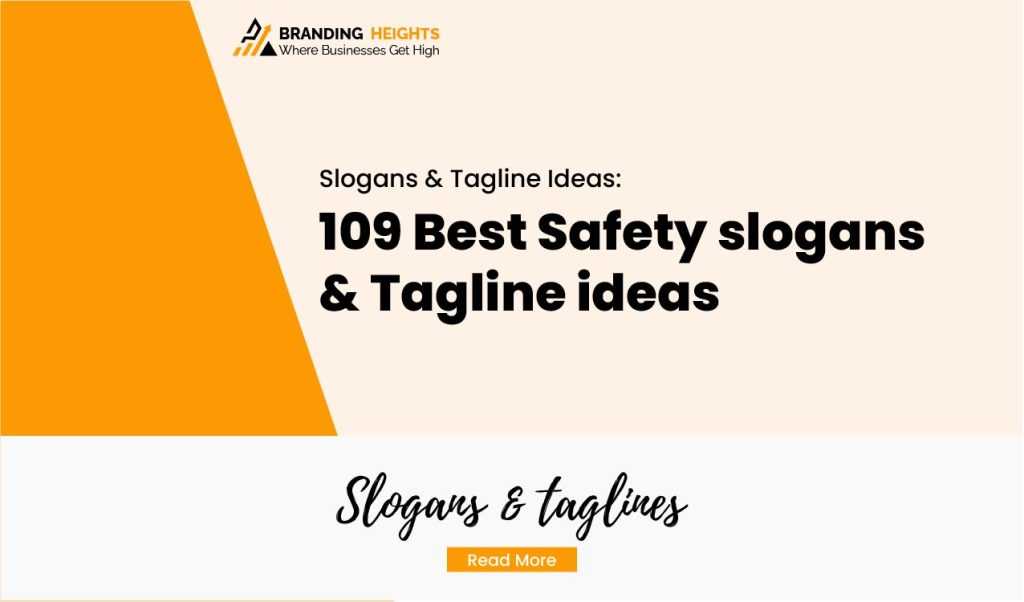 Industrial safety slogans
"Safety is not a job, it's a commitment."
"There is no substitute for safety."
"If you're not safe, nothing else matters."
"Better safe than sorry."
"Working safely is a habit, not an option."
"Safety begins with me."
"Without safety, everything else is at risk."
"Safety is a frame of mind, not just a set of rules."
"Safety is our priority."
"Safe minds, safe bodies, safe workplaces."
"Safe workers make happy families."
"Thanks for working safely!"
"I choose safety!"
"Let's work together to stay safe!"
"Being safe pays off!"
"Safety makes good business sense!
" SAFETY IS EVERYONE'S BUSINESS!"
"SAFETY FIRST – LAST – ALWAYS!"
"IF YOU THINK SAFETY IS EXPENSIVE, TRY AN INJURY!"
"GOING HOME SAFELY EVERY DAY – THAT
"When it comes to safety, we don't take shortcuts."
"An ounce of prevention is worth a pound of cure."
"Better safe than sorry."
"No job is so important that we can't take the time to do it safely."
5."If you're not safe, you're not doing your job."
"You can go home safely at the end of every day… that's our goal."
"There is no substitute for a safe workplace."
"Your safety is our business… and our top priority!"
"Working together for a safer tomorrow."
"Safety doesn't happen by accident."
"Make safety a habit!"
"Be safe or be sorry!"
"There's no place for accidents in the workplace… or anywhere else!"
all it takes is all you've got"When it comes to safety,"
Make your safety habits as tough as you are
"Nobody gets hurt"Our goal is
"We're committed to safety in everything we
Related: 111 Road safety slogans ideas & Catchy phrases.
Safety motto & Sayings
No one ever expects to be in an accident, but unfortunately, they happen all the time. That's why it's important to always be prepared and take precautions to prevent accidents from happening in the first place. To help you stay safe, here safety motto & sayings that you should live by:
"An ounce of prevention is worth a pound of cure."
"Safety is no accident."
"Better safe than sorry."
"Prevention is the best medicine."
"Safety first."
"Take care of yourself and each other."
"Watch out for each other."
"We're all in this together."
"Teamwork makes the dream work."
"There's no 'I' in 'team.'"
" communicated clearly can save a life"
having a clear and concise plan is vital"
Always put safety first.
Better safe than sorry.
Safety is no accident.
An ounce of prevention is worth a pound of cure.
Safety doesn't happen by accident.
Think safety first!
The best offense is a good defense.
Watch your step!
Watch out!
Careful!
Hold on!
Hang in there!
Step carefully!
. Keep a sharp lookout!
Be extra careful!
Mind your own business!
"Mind your P's and Q's!"
"Can't never could!"
"Look before you leap!"
"He who hesitates is lost!"
"If it ain't broke, don't fix it!"
"Better late than never!"
"Leave well enough alone!"
"Easy does it!"
."Don't count your chickens before they hatch!"
"Don't bite off more than you can chew!"
"All's fair in love and war!"
"Different strokes for different folks!"
"Live and let live!
"One man's meat is another man
For More: 101 Best Quality control slogans Ideas & Examples
Safety slogans that rhyme
Look both ways before you cross the street
Don't take candy from strangers
Hold onto the handrail when you're on stairs
Use sunscreen to avoid getting burned
Never swim alone
Wear a helmet when you ride your bike
Only walk on the sidewalk, never in the street
Obey all traffic signs and signals
Don't talk to strangers online or in person
If something feels wrong, go with your gut instinct
Always tell an adult if you're being bullied
Never answer the door without knowing who it is first
Keep your hands to yourself, no hitting or biting
Only put food in your mouth, no rocks or bugs!
Never go off into the woods by yourself
Stay close to a friend in a crowd so you don't get lost
If astorm is coming, take cover inside right away
If there's a fire, get low and stay under the smoke
Practice a home fire drill so you know what to do
if there's an earthquake,If you want to stay alive and well, heed the safety bell
and always put on your seatbelt when you get in the car.
Don't drink and drive, or you may not arrive
home to your loved ones alive.
Drive defensively so you don't become a casualty
of someone else's bad driving ability.
If you're not careful, BBQing can be deadly,
so please use caution when handling hot coals.
Make sure the gas is turned off before you leave
or your house could go up in flames like a fleet of leaves.
Keep an eye out for electrical wires
that are hanging low over puddles of water;
It's important to be aware
of the dangers of carbon monoxide,
so never run a vehicle inside a garage.
Use ladders with care
For More: 121 Creative life slogans Ideas & Tagline Examples
Where To use Safety slogans
There are many places where safety slogans can be used. For example, they can be used in the workplace, on construction sites, and in schools. Some of the most common safety slogans are "safety first," "think safety," and "work safe, play safe." It is important to use safety slogans in these locations because it can help to remind people of the importance of safety.
Safety slogans can also be used in other locations, such as on products or packaging. For example, a product that is designed for use in the kitchen might have a safety slogan on it that says "keep your hands safe." This is important because it can help to remind people of the dangers that are present in the kitchen.
It is important to use safety slogans in all of these locations because they can help to remind people of the importance of safety. Safety slogans can help to keep people safe by reminding them of the dangers that are present and by providing them with information on how to stay safe. Additionally, safety slogans can help to create a culture of safety in a workplace.
Safety slogans can also be used to teach people about safety and how to stay safe. Some examples of this would be teaching children about bicycle and traffic safety or teaching construction workers and painters about the dangers that are involved with their jobs. These types of slogans can help to create a culture of safety by teaching people about the importance of safety.
For More: 10 things to do before Creating slogan or tagline
Quick Tips To Write Catchy Slogans For Safety
Creating a catchy slogan for safety can be the key to getting people to take notice of your safety campaign. Slogans are short, memorable phrases that capture the essence of your campaign in a few words. Here are a few tips to help you write catchy slogans for safety:
1. Keep it simple. The best slogans are easy to remember and understand.
2. Use strong verbs. Slogans that use active verbs are more memorable than those that use nouns or adjectives.
3. Be positive. A positive message is more likely to stick in people's minds than a negative one.
4. Make it personal. People are more likely to take part in a programme if they see it as addressing their individual needs and concerns.
5. Say something unexpected. A slogan that surprises people will make them stop and think about what you are saying. It may also be shared more frequently as it will surprise or interest other people as well.
Related: What is a Slogan & Tagline [Complete Guide & Examples]
Conclusion
Your thoughts? Share them in the comments below. We're always up for hearing your feedback, so don't be shy! What are some of your favorite safety slogans or taglines that you've seen or used before? Leave us a comment with an idea and we'll add it to our list. It's never too soon to start brainstorming catchy phrases about staying safe.
The last thing we want is for someone close to you get hurt by not being aware of their surroundings – especially around dangerous equipment like heavy machinery or power tools which can cause serious injuries if proper precaution isn't taken. So think about what makes sense and then share it with the world because education on these topics should be accessible to everyone who needs it most."