Do you want to improve your email open rates? We've got 111 ideas for the perfect subject line to help you get more opens and clicks. Our list of tested, proven subject lines will give you an edge over your competitors. You can use these same copywriting techniques in all of your marketing emails!
With our list of tested, proven subject lines, we'll show you how to write a better email every time. Whether it's a weekly newsletter or a one-time offer – we have what it takes to make sure that people actually read your emails! It doesn't matter if this is the first time you've ever written an email or if you're already experienced with writing them – we'll teach anyone who reads this guide everything they need to know about writing effective email copy. And best of all – there's no catch! This is just good-old-fashioned advice from some professionals who are passionate about helping others succeed online.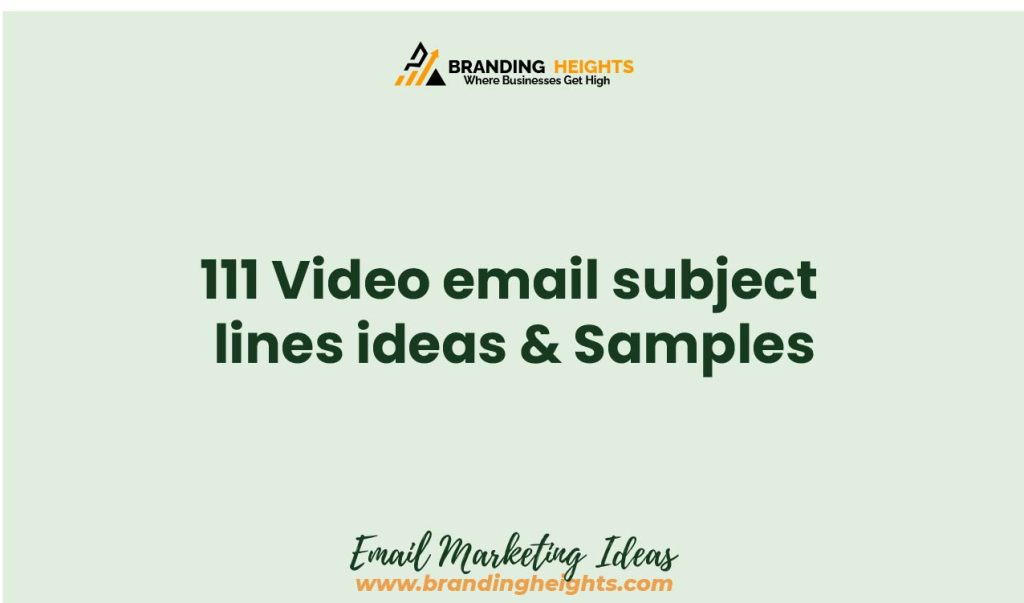 Video email subject lines
To help give you some inspiration, we've compiled a list of video email subject line ideas that are sure to get people clicking.
"You won't believe what happened next!"
"This made me laugh out loud"
"Amazing/Incredible/Unbelievable!"
"Watch this if you need a pick-me-up"
"This will make your day"
"A must-see for all dog/cat/animal lovers"
"'I can't believe I missed this!'"
"'I can't stop watching this!'"
"'This is so cute!'"
"'This is so funny!'"
"For when you need a good cry"
"This gave me chills"
"This will restore your faith in humanity"
"You won't believe what happens next!"
"This video will make your day"
"Caught on camera!"
"You've got to see this!"
"Incredible footage"
"Can you believe this?"
"This is unbelievable!"
"Check out this video"
"A must-see video"
"You won't want to miss this!"
"Take a look at this"
"Amazing video"
"Here's something for you"
"Something special just for you"
"A message from your future self"
"Time-lapse of my day"
"How I made $100 in one day"
"Introducing the newest member of our team"
"A quick update on our progress"
"Thank you for your support!"
"Check out my new look!"
"Can you guess where I am?"
"'ish review – love it or hate it?"
"The story of my life"
"Funny things my cat does"
"My reaction to (insert current event)"
"A thank you message from (insert name)"
"(Product/service) review"
"Tips and tricks for (Topic)"
For More: 117 Email marketing subject line best practices & Examples
Subject lines for video emails
Introducing our newest video series!
Get to know the team behind the scenes
Go behind the scenes of our latest video project
Our latest video is now live!
Check out our newest video tutorial
See what goes into our video production process
Want to learn more about video editing?
Get an inside look at our video creation process
Our team's best tips for shooting better video
How to make your videos stand out from the rest
The secrets to great video marketing campaigns
What goes into a successful video marketing strategy?
How to create engaging videos that people will actually watch
Tips for creating videos that go viral
The most common mistakes people make with their videos
How to make sure your videos are seen by the right people
Why you should be incorporating video into your marketing mix
The benefits of using video in your marketing campaigns
How to increase video watch time
New features for video marketers
How to make your videos go viral
Tips for creating engaging videos
The most important metrics for video marketers
What's new in the world of video marketing
How to get started with video marketing
The benefits of using video in email marketing
Are you making these common video marketing mistakes?
How to create an effective video marketing strategy
The most popular types of videos being shared right now
Interesting ways to use video in your marketing campaigns
secrets to successful video marketing
How to measure the success of your video campaigns
Latest trends in video marketing
Tips for creating more engaging videos
Are you using video in your email marketing? If not, you should be!
For More: 111 Onboarding email subject lines to onboard 2x
Quick Tips to Write subject lines ideas & Samples
Video email subject lines can be a great way to get someone's attention and increase the likelihood that they'll open your email. But what are some good tips for writing effective video email subject lines? And what are some examples of good ones?
Here are a few tips for writing effective video email subject lines:
1. Keep it short and sweet.
The subject line of your email is the first thing people will see, so make sure it's concise and to-the-point.
2. Make it interesting.
Nobody wants to open an email that looks like it's going to be boring – make your video subject line intriguing so people will want to click it.
3. Be specific about what the video is about.
People often have a very short attention span on their phone, so you need to give them enough information in your email subject line that they know if the video is for them or not. For example, saying something like "watch our new product video" is much more effective than "check out our new video."
For More:
Conclusion
With so many video email subject lines to choose from, it can be hard to know what will work best for your audience. We've compiled 111 different ideas and samples that we hope will inspire you when you need a new idea! Which of these do you find the most appealing? Comment below and let us know which ones resonate with you and why. What are some other so good examples of successful video email subject lines that have worked well in your experience?